Arbonne is a skincare range based on botanical principals. They are about being green and have earth friendly products. I had heard of Arbonne when I lived in the states from a very good an dear friend. I went along to one of her nights that she had and I loved the concepts of the products and their range. I even contemplated becoming one of their reps but things changed and I couldn't take it on at that time.
Skip to me starting this blog. Camilla Dobson, a sales rep contacted me to try out some of their products and I did. I had alot to go through. I was happy to try them as I had already tried a few other things while I was in America they have a great range of food supplements, skincare and cosmetics.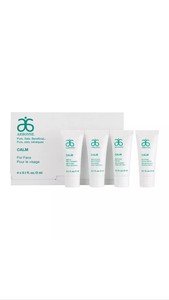 First lets talk about their skincare line. These are all natural botanical ingredients.
RE9 advanced anti-aging skincare. I had been warned that some people have reactions to this line as they are strong in the sense they are so natural. I was given their calming lotion to counteract this if it happened. At this point I had a really bad break out of psoriasis on my face so I didn't take the chance of using this on my face but I did use the calming products on my face and they felt great. So soothing on my psoriasis. I used the RE9 after my psoriasis cleared. This felt so so good on my skin and my sin felt great after.
Lets talk about their protein bar. I am iffy on these things as it is and I like making my own protein balls. This tasted ok. I mean it would do for a treat but it didn't satisfy any cravings for me.
Arbonne Makeup primer. I really liked this. I think this was one of my favorites. This completely smooths out the skin and creates a lovely canvas for makeup. It feels so so so soft. Big thumbs up here.
Seasource detox spa renewing body Gelee. Another great product. This smells like a spa. I love the feel on skin these products have a refreshing texture to them. They do make your skin feel great.
Ultra-Hydrating hand creme. Not as nice smelling as the seasource detox spa but non the less leaves your hands feeling like new again. This stuff works and only having a sample size you are limited to results but your hands feel instantly soft with this
RE9 body wash and cream. Again you are not going to see drastic changes with sample size products but it really is like having a spa at home!
FC5 daily shampoo and conditioner is great. Full of natural products. Gentle enough for everyday use. The shampoo lathers great and the conditioner left my hair feeling so soft.
Arbonne Pure vibrance shampoo and conditioner is specially formulated for coloured hair. This helps retain the colour of your hair for longer.
Arbonne essentials energy fizz sticks. These things are packed full of energy and vitamins and are great for that boost needed throughout the day. You simply add one to 400ml of room temperature water.
Arbonne phytosport. Can someone shout hangover heaven! This worked for me! I had a red wine hangover and I had been told these were great for hydration and god knows you need it especially after drinking alcohol.
Arbonne is not yet available in the Republic of Ireland but it is in the UK and the US.
If you are interested in any of these great products-
Contact for the UK:
arbonnebycamilla@outlook.com
Contact for the US:
http://www.carolyncody.arbonne.com/