So I thought I would share with you things that I am loving using right now and things that will have me going back for more.
First I want to talk about Skincare. I did a blogpost on my nighttime and daytime skincare routine but honestly I have been loving this for so long and I don't think I will stop using this anytime soon. Garnier Micellar water.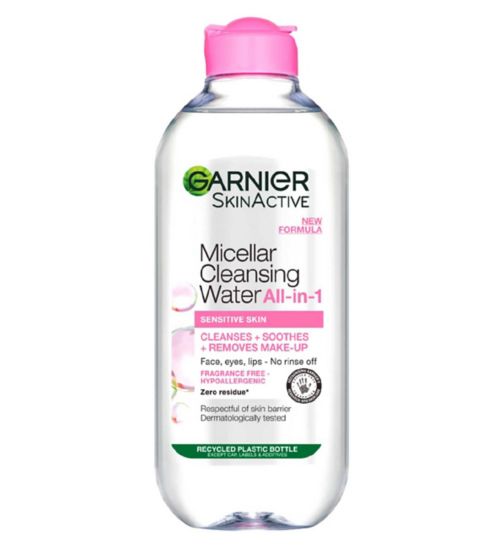 It honestly is the best thing I have ever used to cleanse off my makeup. It's fast and easy and feels so refreshing on the skin. Garnier have released a few variations of this for different skin types. I am very interested in trying the oil based one. Think this will be my next purchase.
You simply add a few drops to a cotton pad and use in circular motions on your face and eyes. This even removes waterproof mascara. You can buy this in any chemist and most supermarkets.
Second is my Mario Badescu Hydrating moisturiser. This is enriched with hylaronic acid and Biocare, Seriously my face feels soooooo hydrated when I use this. Its enriched with antioxidants and collagen. Not only does it help with dry skin but it helps fine lines and wrinkles and I will definitely be purchasing this again. I purchased mine on beauty bay for €22.60
Beauty Bay Badescu Moisturiser
The Body Shop Oils of Life.
I got a sample version of this in a Glossybox and I fell IN LOVE. My skin feels amazing after I apply this. It smells fantastic and mixes great with foundation. If you are on the hunt for a good facial Oil then I definitely recommend this. It is £28 and you can get it
Here
ABH Dip brow Pomade.
Want good brows but you cant get it right with pencils or powders then this will be your best friend. My brow game has got stronger with this wee bad boy. I swear it's so easy to use and it lasts all night. Use short stroke motions to create a natural hair like strand. There are 11 shades to choose from so you will definitely be able to find one for you. If you have a natural strong brow then powder should be enough but if you have sparse brows then this is your new BFF. I got mine on beauty bay for €18.60
here
.
Sleek Solstice palette. This is some highlighter palette. If you want to shine bright and want a severe noticeable highlighter then this is your next purchase. I had someone comment under a blog post I did on this that this is not for the faint-hearted and that's exactly what this is. Intense, If you want the natural glow then skip this. This is €14.49 and I got mine
Here
Co. Bigelow Lemon Body cream.
A fab body moisturiser that adds a glow to the skin with no shimmer!! What more could you want.
Nivea men's post shave balm.
Read my full blogpost on this
Here
. My makeup goes on so smooth when I use this as a makeup primer and it lasts so much longer before fading off or caking. Steal your mans or your dads to try this out!
Last but not least is my Pippa Palette. This is my ride or die travel buddy. If I am going anywhere or staying anywhere I take this with me. It has a bronzer, blush, highlighter and shadows. I know if I have this I have all I need to create a fab makeup look. Read my blogpost on this Palette
here
. This is €34.99 and you can purchase this
Here
Let me know in the comments below what you are loving at the mo and if you use any of these products!xx