We can get very sucked in at the expensive skincare range in Debenham's. When someone says 'do you have a minute?' and you are to polite to say no and €80 later you have some cream that is supposed to be a face lift in a bottle.
Well here are some products that are so affordable and do the same as their expensive sisters.
1.
Garnier Miracle Sleeping cream €16.99 :
This stuff leaves my face feeling so so smooth in the morning. I love using it. It is supposed to smooth, rejuvenate and Firm skin. I think this wee gem does what it says. It is as good as any expensive counterpart.
2.
Garnier Micellar water. €7.50.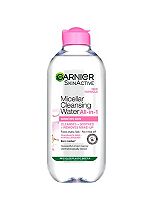 This is a micellar water. There are many micellar waters by many brands. This is on the more affordable side of the scale. This is one of the best in my opinion. I am nearly out of this and I have a
Simple
one to try out next and I will inform you.
3.
Body Shop, Oils of Life £28.
£28 you say, yes that is expensive. As far as facial oils go though this is on the more affordable side of things. This is enriched with 3 seed oils. This is supposed to rejuvenate and repair. To be honest this is one of my favourite beauty oils. Considering some facials oil run to €90 this is definitely more affordable.
4.
Garnier Beauty oil Body scrub. €8.49
You don't have to spend a fortune to exfoliate the skin. This exfoliates with microbeads and has oils in them that leave my skin feeling so hydrated and smooth. Always keep an eye out for offers though, you can get this cheaper on a 3 for 2 deal or buy one get one free!
5. Vaseline. €1
You can get a wee tin of this in pennys for €1. Vaseline has a number of things it can do for your skin. It helps so well with dry skin patches. It is fab for the lips and still is my fav option for a lip balm. Guess what. See those Matte liquid lips that are all in and you cant get off. Rub Vaseline on them with a cotton pad and it will be gone. Also fab for the cuticles of the nails.
6. Garnier fresh toner €4
Toner is one of them things that people think, 'it doesn't really do anything' but it does. It helps tone the face and close down the pores that were opened during cleansing. I don't think that you need to break the bank in this sector. I love how this makes my skin feel and it doesn't have alcohol in it!
This post is not sponsored by Garnier BTW. lol! I just think that they do great affordable skincare.