Christmas is fast approaching. I am going to be so cliche and say 'oh my god I cant believe its November, where has the year gone?' but really though, where did that year go? If you have been reading my blog then you know I love all things beauty. I have compiled a list of gifts to give a beauty obsessed person in your life for Christmas.
1: Bellamianta Tan Gift Sets:
This tan is amazing and by far the best I have ever used. In both the mousse and lotion. Check out my posts on both of them, click
here
for lotion and
here
for the mousse. These range from €27-€33 and can be found online at
cloud10beauty
or in chemists nationwide.
2: Cocoa Brown Goddess collection;
I am 100% buying this for myself and I will be gifting this to people aswell. I love the Golden Goddess Oil and have a review on it
here
. This is an amazing product and i'm so interested in trying out the Rose Gold and the and Ice shades. You will be glowing from the heavens with this. This will be avalable from November 11th for €14.95 in chemists.
3: Nima Brushes Eye Brush Set:
I literally just got this in the mail this morning and I am already in love. I LOVE the colour and I needed more eye brushes and not face brushes. Sometimes when buying sets you end up then with brushes I already have and don't really need. I was on the hunt for an affordable eye brush set and this was exactly what I was looking for. It had all the brushes I wanted and needed. They are so soft and well made and well the packaging is super pretty. This retails at €65 and you can purchase them
here.
4: Anastasia Of Beverly Hills-Modern Renaissance Palette:
Seriously whoever you give this too will love you forever and ever. This is one of those palettes that delivers in every way. The colours are super pigmented and warm toned. You can do daytime soft looks or dramatic nighttime looks. You can purchase this on
cultbeauty
for £41. This is a perfect luxury gift for the one you love!x
5: Blank Canvas Master Series One Palette:
Heaven in a palette? I think so. This is hands down one of my favourite palettes I own. The colour's are amazing and the pigmentation is as good as any highend palette on the market. This is €34.95 and is sooooo affordable for high quality this is. You can get this in most local chemists or online on
blankcanvas.com
.
6: Ailen by Thierry Mulger:
This is hands down the nicest perfume I have ever had. Every time I wear it I get compliments. This has a Floral-Woody scent and is so luxurious. This retails at €68 for a 30ml bottle. Get your hands on it
here
.
7: Styl Pro makeup brush cleaner:
This is a must for the makeup junkie in your life. Or someone who always complains about having to clean their makeup brushes. This has made my life so much easier. This cleans and dries your brushes in seconds, instead of having to wait 24 hours for your brushes to dry. This is €65 and you can get it on
Inishpharmacy.com
online or in store.
8: GHD styler in Copper Luxe:
This really is a no brainer and you cant go wrong. They are the best hair straighteners out there and they last for so long. These are a fab gift for a girlfriend who complains about her 'crap' hair straighteners or says she needs new ones, These are the Holiday edition ones and they are on trend in the copper colour. These retail at €165.00 and you can get these in Vixen Hair and Beauty, Carndonagh or online at
GHD.IE
.
9: Pixi Skintreats Holiday set:
This wee set will transform your skin and is great for all skin types. If you are looking for stocking stuffers, this will be a great addition to your Christmas gifts. I done a review on the amazing Glow tonic
here
. This is €25.95 and is so affordable for really great skincare. Get it here on
cloud10beauty
.
10:Soap and Glory Girl O Whirl: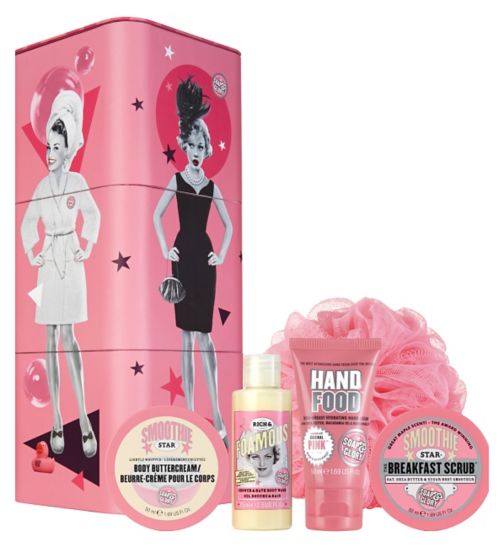 Anything Soap and Glory smells divine and this is another amazing stocking stuffer or Secret santa gift. You get a body wash, hand cream, body polish and a body moisturiser. You cant go wrong here and right now Boots have a 3for2 offer on gift sets so this really is a winner. Snap this up online
here
or in store for €15.
Well that is my top 10 for now and there will be more Christmas posts coming soon! It's getting exciting now.
Alanna xx